Bandanas aren't just for hip, young, fashionistas any more.
There are many uses for a bandana in your preparedness gear.
Head covering to protect from sun
Cooling rag – get it wet and wrap around head or neck
Dust Mask – wrap around face to help protect from debris
First Aid – use to pack a wound, wrap an ankle, splint a broken bone
Water purification – use to filter particulates from water (though it will not filter parasites or poisons, only debris)
Foraging – can use to hold food or use as a plate
Signal – use to signal or as a trail marker
Fire Starter- use pieces as tinder
There are even bandanas you can purchase that have survival information printed on them!
Survival information bandana
OEM Survival Bandana
This printed bandana is soft,high quality polyester material for a comfortable fit
Dimension is 20" x 20"and can provide the shape option of triangle and pentagon in three size options.
Survival information is printed directly on the bandana and it's perfect for outdoor activities such as boy scout and...
Assortment of military-style bandanas
12 Pack Camouflage Military Bandanas 100% Cotton Army Camo Headwraps...
MADE OF A QUALITY MATERIAL - 100% Cotton Material. Standard Size Bandannas. Sewn on all 4 sides. Hypoallergenic. Offers...
ONE SIZE FITS MOST - Size: 22" x 22" when layed flat. Order 1 pack and get 12 bandanas. Tie it in many different ways...
12 PACK: Comes in 12 Pack. Perfect for all occasions like parties, camps, bbqs, get togethers, napkins, table accessory....
I want to suggest the Bandanas by the Dozen packs from Amazon as they are inexpensive, but most the ones we bought were cheap, polyester and not real bandana material. You'd be better paying just a bit more for real cotton bandanas.
Here's a great graphic to keep track of on what you can use it for: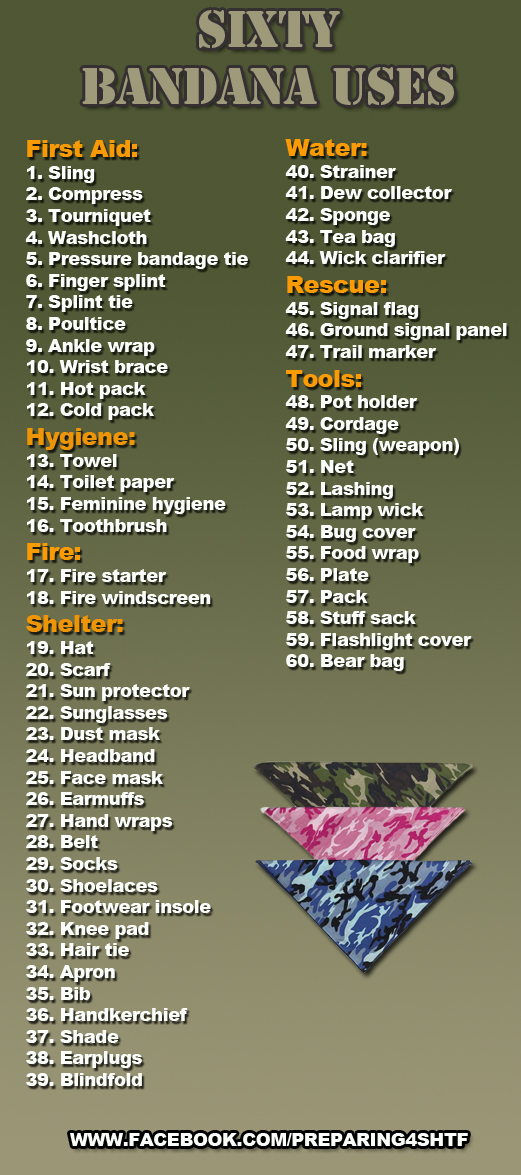 Courtesy of:
preparing For SHTF
Find more Preparedness Quick Tips Here:
Tom is a Marketing & Communications graduate interested in nature, gardening, agriculture, and traveling. For the last decade, Tom has turned his hobbies into a full-time job, creating useful resources and guides for all our readers. If he is not working on his next article, you will find Tom spending quality time with family or taking care of his own back garden.
Last update on 2023-02-01 at 16:09 / Affiliate links / Images from Amazon Product Advertising API