Bandanas aren't just for hip, young, fashionistas any more.
There are many uses for a bandana in your preparedness gear.
Head covering to protect from sun
Cooling rag – get it wet and wrap around head or neck
Dust Mask – wrap around face to help protect from debris
First Aid – use to pack a wound, wrap an ankle, splint a broken bone
Water purification – use to filter particulates from water (though it will not filter parasites or poisons, only debris)
Foraging – can use to hold food or use as a plate
Signal – use to signal or as a trail marker
Fire Starter- use pieces as tinder
There are even bandanas you can purchase that have survival information printed on them!
I want to suggest the Bandanas by the Dozen packs from Amazon as they are less than $1each, but most the ones we bought were cheap, polyester and not real bandana material. You'd be better paying just a bit more for real cotton bandanas.
Here's a great graphic to keep track of on what you can use it for: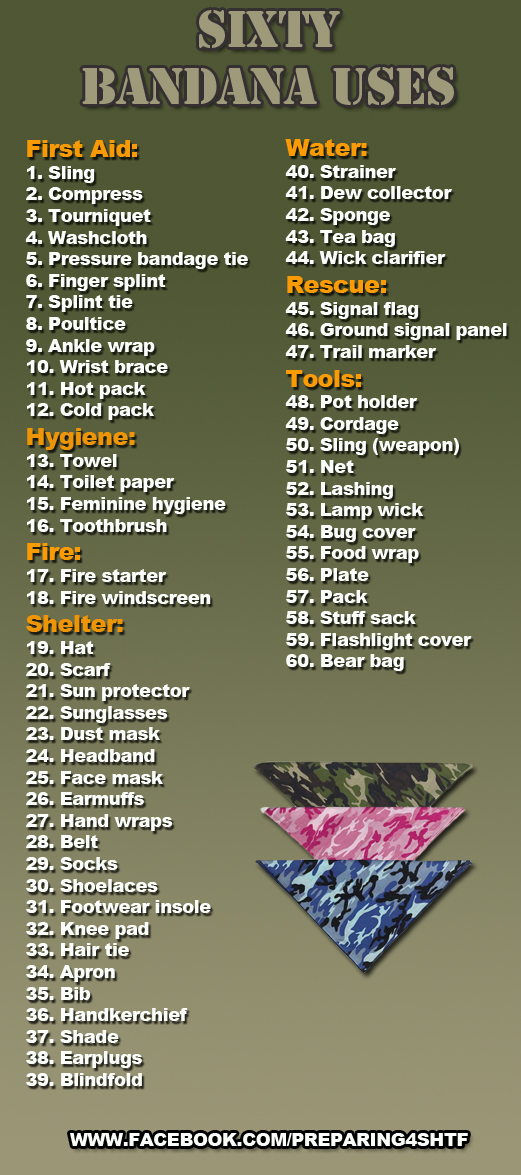 Courtesy of:
preparing For SHTF
Find more Preparedness Quick Tips Here:
Join Mom with a PREP as we prepare our families for life's emergencies, one day at a time.